Regular price
$495.00 USD
Regular price
Sale price
$495.00 USD
Unit price
per
Sale
Sold out
Frog Legs II Suspension System - Look up and enjoy life!
The best just got better - Frog Legs, the leader in suspension forks
The evolution of suspension - You deserve a smoother ride, therefore, we totally re-invented our new Frog Legs II Suspension System to exceed your needs and demands. Our original, ground-breaking Frog Legs suspension fork created smoother rides for thousands, and after years of input, design, and testing, the Frog Legs II is the evolution of suspension. The entirely new design features new composite forks, wedge progressive polymer damper, and all-new aluminum top cap.
In-house composite technology - The development of the Frog Legs II fork is a result of years of in-house proprietary composite material testing and innovation. Understanding the obstacles that you encounter led to all of the improvements in design and materials. The orientation of our proprietary composite used in the curved fork blades creates a lighter, more responsive shock. With strength equal to aluminum, it's an even better looking and riding fork.

Optimized absorption zone -  By combining the super-light, rapid response fork with the wedge damper, we are able to dramatically improve bump response through the optimized absorption zone. The Frog Legs II  rides like a standard fork on smooth surfaces, reacts quicker when encountering obstacles, and then returns to its rest position in milliseconds. Suspension, only when you need it.
Engineered for efficiency -  The Frog Legs II Soft-Roll wheels were specifically designed for use with the Frog Legs II Suspension System. They're an engineering marvel; custom billet aluminum wheels, machine lathed rims for perfect balance, proprietary, highly resilient urethane treads, high-performance stainless steel bearings, and Frog Shields dust caps all contribute to increased propulsion efficiency. With that much engineering and manufacturing precision, it's no wonder no other caster wheel manufacturer offers a two-year warranty.*

The Frog Legs II Suspension System is designed for a "one size fits most" user weight range up to 260 pounds for ease of ordering.
Your new Frog Legs II Suspension System includes:
Frog Legs II composite forks
Frog Legs Soft-Roll wheels in Black or Silver with industry-defining proprietary black urethane treads
Frog Legs high-performance stainless steel bearings
Frog Shields - dust, hair, and gunk caps
Share
View full details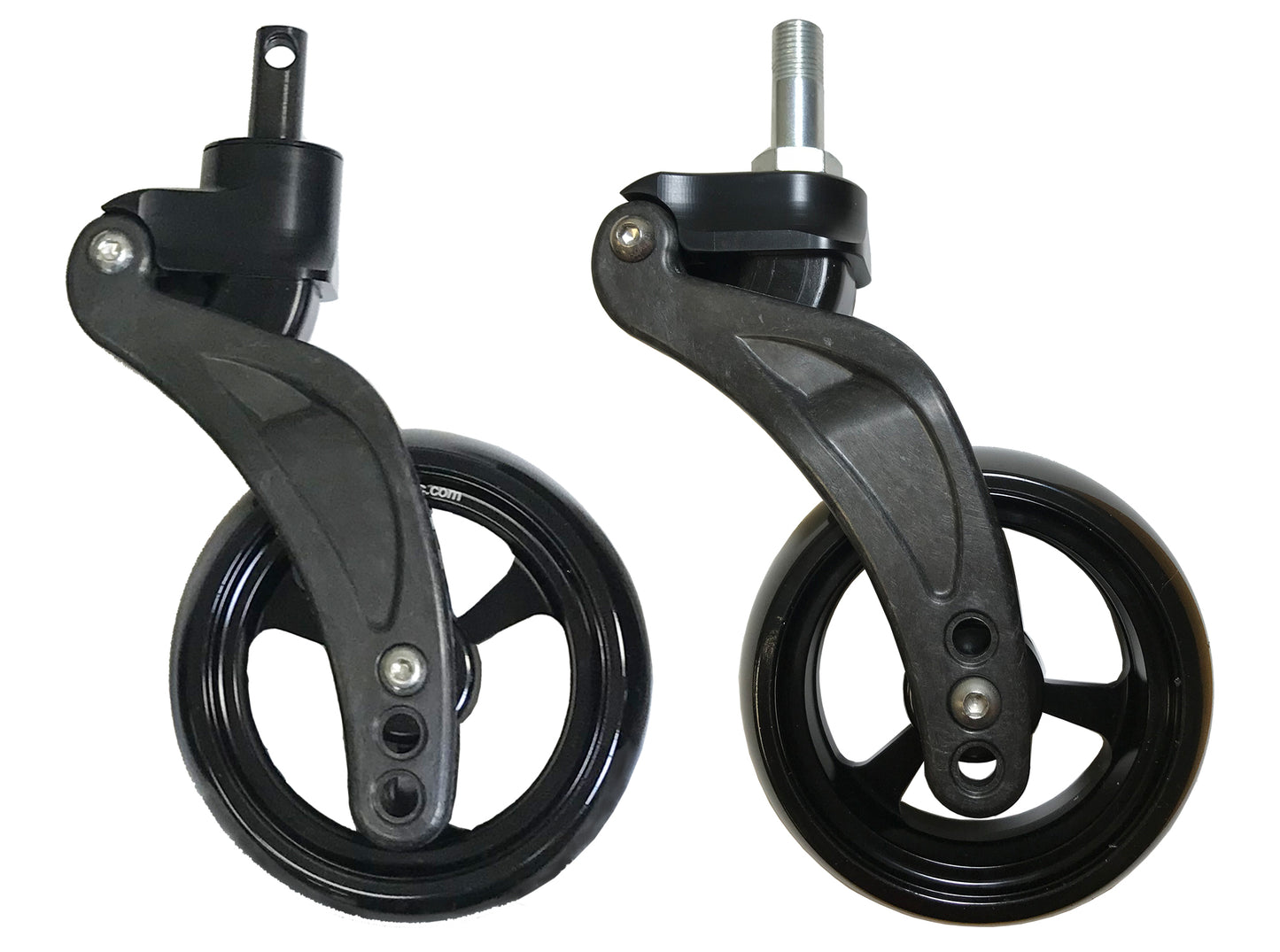 Will Frog Legs fit to my chair?
Click on your wheelchair manufacturer to see if Frog Legs will fit to your wheelchair.